Бегство наёмников из Сирта

#شاهد بالفيـديو

• هروب العصابات الارهابية من ارض المعركة في #سرت و اتجاهم الى الشرق pic.twitter.com/FX6mNp4kdr

— ابراهيم قصودة 🇱🇾🇾🇪 (@EbrahimGasuda) June 6, 2020


Был бой

🔵📹 #Libya- Sirte ve Cufra bölgesinden yer yer çatışmalar devam ediyor. pic.twitter.com/1IQVozE4tl

— Mete Sohtaoğlu (@metesohtaoglu) June 6, 2020


Вагнеры бежали из авиабазы Сирта Гардабия и теперь их заметили возле базы Аль-Джуфра.

Görünüşe göre LNA ve Rus paralı askerleri Jufra'dan çekiliyor. #Libya #LNA pic.twitter.com/cSuOllD0hK

— Bodyguard 🇹🇷 (@Bodyguard1908) June 6, 2020


Бежавшие из Сирта дозаправились в Аль-Джуфре и бегут дальше на восток.

Türkiye destekli #Libya ordusunun Sirte'nin kontrolünü ele geçirmesinden sonra. El Cufra'ya kaçan Hafter milisleri, El Cufra'dan da çekilmeye başladı.

▪️Kaçan milisler böyle görüntülendi.🇱🇾🇹🇷 pic.twitter.com/At7iuWwYcr

— A_H_M_E_T🇹🇷🐺 (@_ahmet_sever) June 6, 2020


Танчиком дорогу перегородили, чтоб помешать погоне...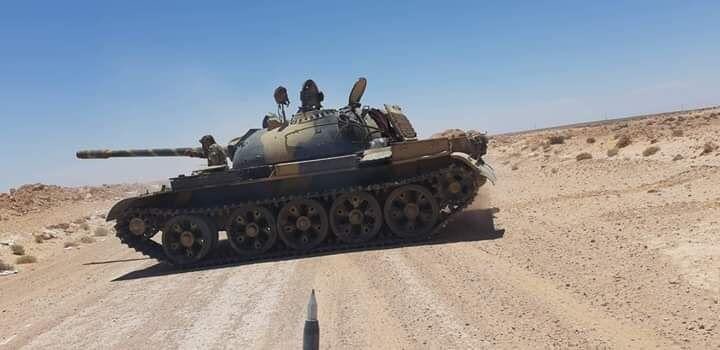 Под Триполи ополченцы нашли бумажки с русскими письменами

Pictures of coordinates in #Russia|n language in one of the houses in Al-Khala area, The house is used by #Wagner PMC mercenaries to target the positions of #GNA Fighters.#Libya #Tripoli pic.twitter.com/DNK5ZYMgDS

— Tripoli News - طرابلس نيوز (@tripolinews_ly) June 5, 2020

Доберутся до Джуфры, а там перекрашенные в ничейные МИГи. Улетать им некуда. И вагнеров в Египет не пустят...