Ни еды, ни бензина БЕЗ МАСКИ.

No Mask 😷 - No Vegetables

In Tripura, following the government's order that makes wearing masks compulsory, various vegetable markets and petrol pumps in Agartala have come out with the campaign 'No Masks, No Vegetable;' and a 'No Masks, No Petrol' Policy.

— All India Radio News (@airnewsalerts) April 27, 2020


Моди во время видеоконференции с губернаторами демонстративно использует импровизированную "маску" из традиционного шарфика гамча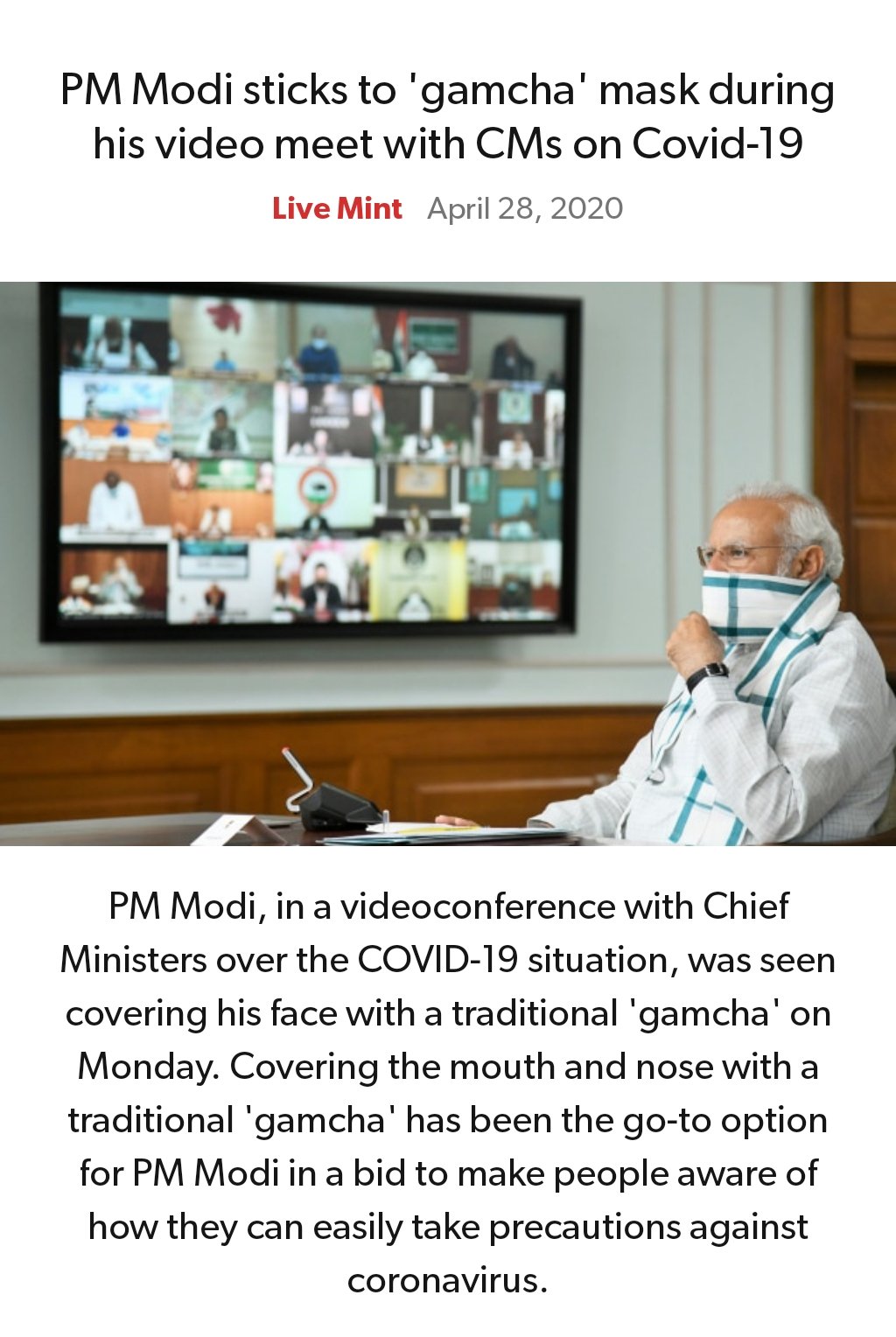 Дисциплинарные патрули избивают торговца-безмасочника. Филиппины.

WARNING: This video contains violent images that may be disturbing to some viewers. Viewer discretion advised.

WATCH: QC officials maul, drag fish vendor for not wearing face mask
Full story: https://t.co/r0nUdknq0W pic.twitter.com/JOSGswEneN

— Rappler (@rapplerdotcom) April 28, 2020


Жёстко, похоже мужчина слегка под веществами.

WARN⚠️NG: This video contains violent images that may be disturbing to some viewers.

Viewer discretion is advised.pic.twitter.com/zBom9EplyH https://t.co/fkczyqiPGg

— Kelvin¹¹ (@KelvinCasamayor) April 28, 2020


Мадагаскар, безмасочники метут улицы

Madagascar police forced citizens caught outside without a coronavirus face mask to sweep pavements on Monday, law enforcement officials said.
https://t.co/STakCfGCVD

— Inquirer (@inquirerdotnet) April 28, 2020


Индия. Безмасочники нападают на полицию

धक्कादायक: पिंपरीतील काळेवाडी येथे पोलिसांना मारहाण; कॅमेऱ्यात आरोपी कैद #PunePolice pic.twitter.com/RHOLNLX6jV

— Maharashtra Times (@mataonline) April 27, 2020